Our project got extended for one more year, but the ninth graders must say goodbye
While the project got extended for one more year and the eight graders will continue to work on it, we, ninht graders must say godbye.
We are very honoured that we've been part of this project. We are leaving this school with many new experiences.
We met a lot of new people and made lots of friendships. We were also able to visit many different places, cities and learn about other cultures. We are going to highschool with new precious knowledge. For some of us it was the first time flying with a plane and leaving our families for longer period of time. We learnt a lot about the dark side of internet and we shared our knowledge with younger generations of our school. Connectingh with other participenats from the project gave lots of ocasions to practice and improve our English. We found out our English is on a high level.
Even if we were the best speakers.
Thank you for everything,
The ninth graders of Erasmus + team Slovenia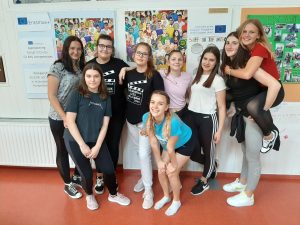 ---